---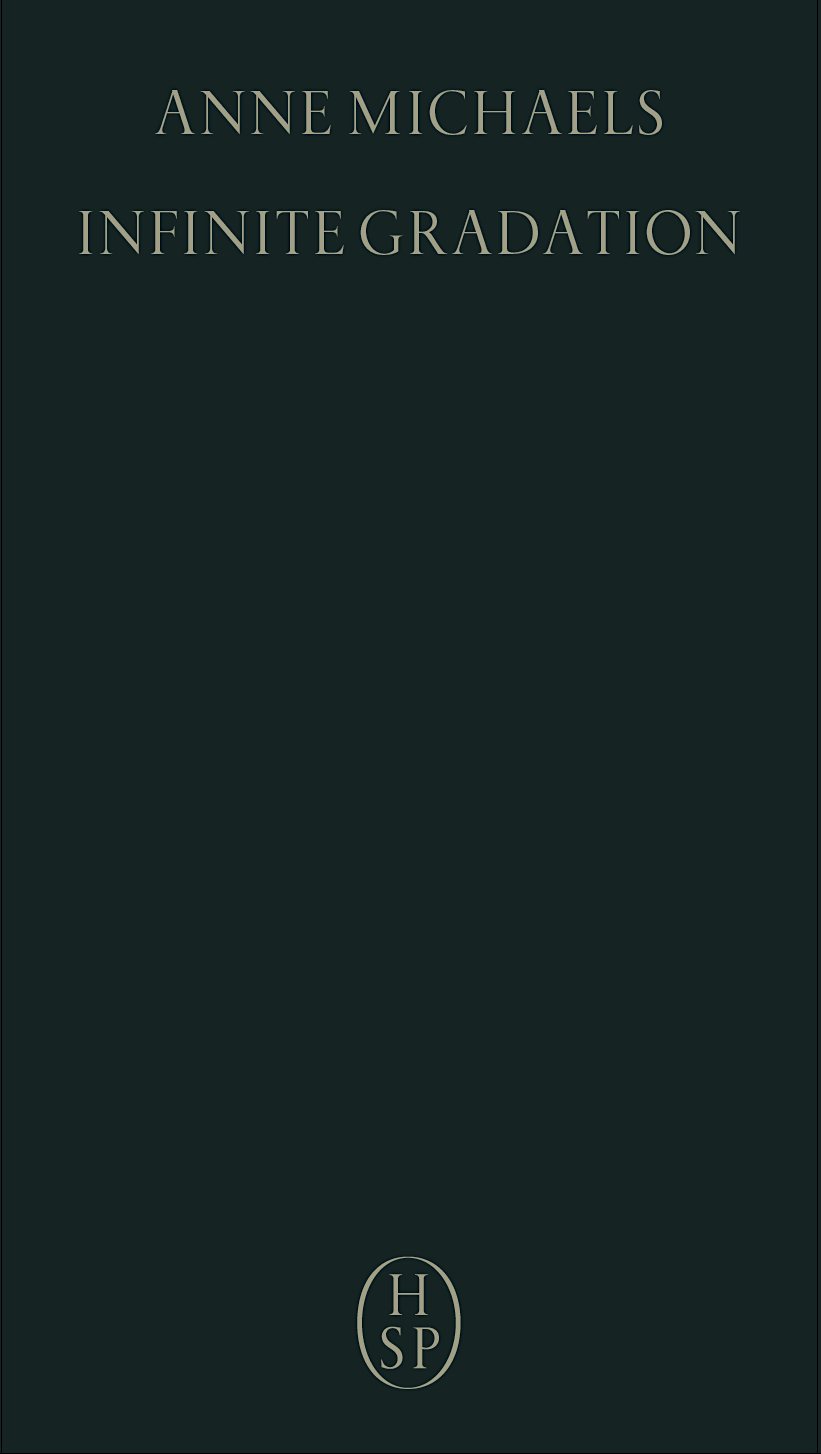 £9.99 | £25.00
ORDER A COPY
Infinite Gradation by Anne Michaels
We ask of art not that we understand it, but that it understand us…
In this, her first volume of non- fiction, Anne Michaels, the internationally award-winning poet and novelist, author of Fugitive Pieces, reflects on the ethical, emotional and philosophical implications of language and the creative act.
She considers the lives of certain artists and writers – Paul Celan, Jack Chambers, Eva Hesse, Etty Hillesum, Nelly Sachs and Claire Wilks – who have made work at the very limits of experience, in remarkably different situations and with radically variant materials. Asking those urgent questions, Michaels explores how the artistic expression of being might serve as a witness in extremis; and she examines the nature of responsibility, and the form it takes in poetry, fiction and image-making, especially in the face of atrocity, when everything is at stake.
Infinite Gradation is an astonishing meditation on what art makes of death. In lines as precise and profound as any Michaels has written, it is also a lyrically compelling praise song to love and the enduring mysteries at the core of existence.
Infinite Gradation is published in an edition of 600 copies, of which 26 specials are signed and lettered by the author.
Format: paperback, 182 x 102 mm, 108pp, perfect bound; 600 copies (incl. 26 special edition copies)
Afterword by Gareth Evans
ISBN: 978-1-9998161-0-0
RRP: £9.99 | £25.00
Publication date: 9 October 2017
Praise for Anne Michaels
Monumental. Fugitive Pieces is the most important book I have read for forty years. – John Berger
The poems in The Weight of Oranges go way beyond games or fashion or politics … They represent the human being entire. – Michael Ondaatje
A Sparrow's Journey by Andrey Platonov
John Berger described the great Soviet writer Andrey Platonov as '[understanding] living modern poverty more deeply than any other storyteller I have come across'. Published to mark Berger's 90th birthday, A Sparrow's Journey: John Berger reads Andrey Platonov, brings together one of Platonov's most poignant short stories with a text by Berger on writing and poverty, inspired by his readings of Platonov's work.
Accompanied by a CD recording of Berger reading Platonov's story, a short essay by translator Robert Chandler, and an Afterword by Gareth Evans, this multimedia publication – the first from new imprint House Sparrow Press – brings together two kindred spirits in a unique, collaborative work.
With their voices echoing across time and place, both Platonov and Berger's writing asserts the importance of solidarity and coexistence between creatures, and the joys – and costs – of trying to live honourably in a dishonourable age – a message truly central and necessary to our times.
---
---
£9.99
ORDER A COPY
House Sparrow Press
Formed in 2016 to publish A Sparrow's Journey, House Sparrow Press is, in the best and multiple senses of the word (it is hoped) an 'occasional' venture. Based in Hackney, London, it seeks to publish creatively committed, collaborative works both at a time that is relevant and for reasons that feel compelling. It is drawn to manuscripts of hybridity, titles that might elude conventional publication over concerns of form or scale. It also believes in a modesty of style (but never of ambition) and a fecundity of ideas. Its moniker (drawn from its first venture) celebrates a creature that was once ubiquitous and yet is now threatened. The idea of a bird inhabiting and inspiring a place of residence also feels resonant. This is what the best books do too. There are wings at work here. In short, Emily Dickinson was right (again) when she observed that 'hope is the thing with feathers'.
House Sparrow Press comprises Jess Chandler (Publisher and Editor) and Gareth Evans (Editor).